Buddy Holly at the Laramar
---
Buddy Holly – Winter Dance Party
On January 30, 1959, the Laramar Ballroom was jumping when the Winter Dance Party and its headliners – Buddy Holly and the Crickets, the Big Bopper, Ritchie Valens, and Dion and the Belmonts - performed on its stage on a cold, snowy night in Fort Dodge.
The Laramar Ballroom, and some 1,000 fans crowded into the downtown building at 710 First Avenue North to watch, dance and sing along as the musicians played their hit songs - never imagining that a few days later, in the early hours of Feb. 3, 1959, three of them – Holly, J.P. "The Big Bopper" Richardson Jr. and Valens — would die in a plane crash after performing at the Surf Ballroom in Clear Lake.
"The whole show was great. Little did we know that this was the last time we would see them," said Wes Trickel, of Fort Dodge, who was at the Laramar with his wife, Bertha, that night and got to meet Richardson and Valens. "We were so sad when we heard the news that we all never wanted to believe what had happened."
That tragic moment on a wintry night in a cornfield north of Clear Lake was "the day the music died" as Don McLean would sing in his 1971 classic "American Pie."
That moment in history has become known as the "day the music died."
At the time, Holly and his band, The Crickets, were playing on the Winter Dance Party tour
across the Midwest.
At the Laramar, rising artists Valens and Richardson had joined the tour as well. The live concert performance included two hours of unbridled, high-voltage entertainment featuring hit songs of the '50s era.
This picture of Buddy Holly taken backstage at the Laramar Ballroom in Fort Dodge, Iowa on January 30, 1959 during the Winter Dance Party tour. He is ready to leave, has on his yellow leather coat with the fur collar, and is holding his overnight bag.
---
Cardiff Giant
---
The Cardiff Giant
1869
The Cardiff Giant is known as one of the biggest hoaxes of all time in the United States. Fort Dodge and its gypsum deposits gained a world-wide notoriety from the "Cardiff Giant." because it was developed from the gypsum ledges in the Fort Dodge area.
New York tobacconist George Hull was engaged in a friendly discussion with a clergyman regarding the Biblical story about the Sons of Anak. These were biblical giants who were part of a tribe that was referenced in a number of locations in the Bible. Hull and the clergyman were debating whether there ever had been, in fact, giants living on earth.
After considering this possibility, Hull hatched a scheme to manufacture a "giant" that could be buried and later "discovered" and be passed off as a petrified man. It is safe to assume that Hull's fraudulent hoax was probably founded on a scheme to make a great deal of money.
About a year later, Hull travelled to Fort Dodge in order to by a large block of gypsum. Gypsum was chosen because of the various colored veins that ran through the rock. Hull thought these colors would look like the veins in a human body. Hull and a friend visited Fort Dodge and soon appeared to be suspicious in character, so many local residents wanted nothing to do with them.
Hull supposedly bought an acre of land in Gypsum Hollow in Webster County, although no record of this transaction has been found in the Webster County Courthouse. He recruited local miners to facture out a large block of gypsum of this land, telling them he wanted it so that it could be used to create a monument to Abraham Lincoln in Washington, D.C. Hull had difficulty convincing miners to excavate such a large block of gypsum (12'long, 4'wide and 22 inches thick) because the miners told Hull that size would be too heavy to ship. He eventually succeeded in convincing them to excavate the gypsum and after three weeks, it was loaded on a wagon and then a train and shipped to Chicago. Along the trip to the train station, some of the gypsum was shaved off the block of gypsum to reduce its weight and make it easier to transport.
A sculptor in Chicago, Edward Burkhardt, was commissioned to carve a large human form from the block of gypsum. Burkhardt was sworn to secrecy. Various stains and acids were used to make the figure look old and weathered. Hull also rubbed the figure with a wet sponge filled with sand to get rid of any traces of chisel marks on the sculpture. The finished figure weighed approximately three tons.
Hull then transported the giant by railroad to his cousin William Newell's farm in near Cardiff, New York, a town near Syracuse, New York, where he had it buried on Newell's land. Nearly a year later, in October of 1869, Newell hired some men to dig a well. As the men began digging, their shovels came in contact with something that seemed to be a very large rock. As they continued digging, the "discovered" what appeared to be a very large petrified man. Word of the unearthing of a petrified man spread quickly around the countryside. People came from miles around to see the Giant, which was identified as an example of an ancient race mentioned in Genesis by some believers. "Found" in the heart of New York's Burnt Over District, the Giant benefited from the religious fervor sweeping the area.
News of this discovery spread quickly, and people began coming to Newell's farm from miles around to see the giant. A tent was set up over the giant, and Newell charged 25 cents per person to see the figure. It rapidly became so popular that Newell raised the price to 50 cents per person. Hundreds came to see the figure and receipts often reached $1,000 per day.
It was soon raised from its "grave" and exhibited in various cities. P.T. Barnum found that it was competing with his museum and purportedly offered to buy it for $40,000. This offer was refused. A local syndicate was soon organized and became owners, with Newell retaining 25% ownership in the giant.
There was skepticism as to the veracity of the claim that this was indeed a petrified human giant. Scientific experts offered another theory on the Giant's origin. Dr. John F. Boynton, scientific lecturer, declared that the Giant was a statue created by a Jesuit priest during the early 17th century to awe local Indian tribes. Noted geologist Dr. James Hall (who was the first State Geologist of Iowa and later in Wisconsin) examined the giant and made a lengthy report, stating that the figures was indeed an ancient statue and not an actual human being. But by Hall's observation of the soil erosion and water flow around the figure, he stated that the statue "was an ancient statue and had not been buried in recent times." The public wasn't quite convinced, and continued to view the figure under the understanding that it could quite possibly be a mummified human form.
After the figure had been exhibited in a number of cities, another noted paleontologist, a Professor March, stated that it was a hoax, a "humbug". Farmers were found who remembered having seen Hull hauling an immense box on the road between Binghamton, New York and Cardiff, and with affidavits from men of good character in Iowa, the scheme started to unravel.
When the evidence became too strong to be successfully combated, and Hull disposed of his interest in his "invention" for $23,000. He was elated over the fame he had acquired and admitted that he was the originator of the "Petrified Giant" and enjoyed greatly the discomfiture of the scientists whom he had deceived. Finally he made a full confession confirming every important aspect of the history of the deception and published it in the Fort Dodge pamphlet in 1870. This confession should forever have settled the thirty year controversy, but thousands of people continued to believe in the "petrified giant" to the end of their lives.
The original Cardiff Giant was put on exhibition at the Pan-American Exposition in Buffalo, New York in 1901. In 1947, the Giant was sold to The Farmers' Museum in Cooperstown, New York, where it remains on display inside the main barn of the museum. A replica of the Giant is on display at the Fort Museum and Frontier Village in Fort Dodge, Iowa, from where one of the greatest American hoaxes originated.
Sources:
*The Des Moines Register
*Fort Dodge: America's Frontier Town, by Alan Foster Nelson
*Roadsideamerica.com
*farmersmuseum.org
*National Gypsum: www.ngc-heritage.com
---
Eve's Kitchen
---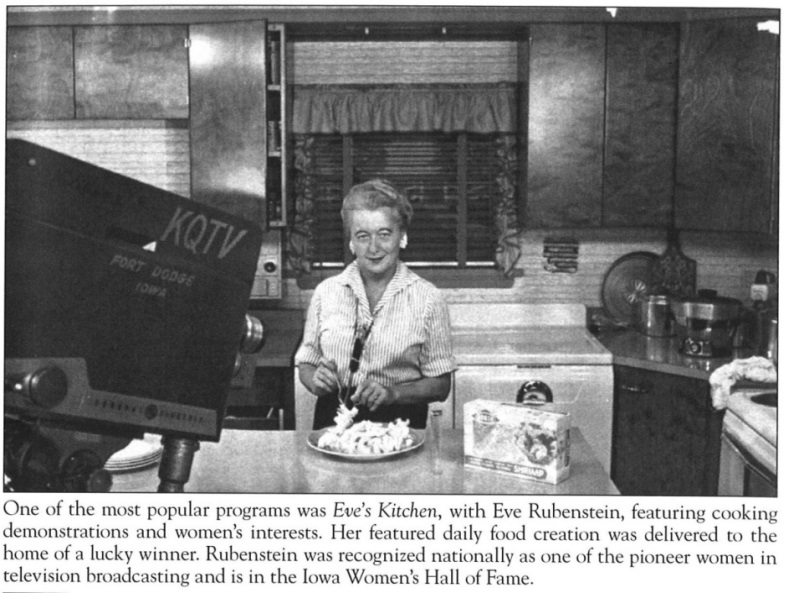 Eve Rubenstein was born in Fort Dodge. She attended public schools. In 1930 at age 24 she married Charles Rubenstein, who was 27. Charles died suddenly in 1953. Casting around for a career, she was approached by Ed Breen, the owner of KVFD radio station. He had recently purchased a television station, KQTV - Channel 21, and was looking for programming ideas. Eve was given an hour long time slot, Monday through Friday. Her program was called 'Eve's Kitchen', and featured live cooking demonstrations. Her program was followed by 'Uncle Dick's Funhouse' and often the children attending would be given samples of the food cooked on Eve's program.
Eve's Kitchen began as a cooking show with guest chefs. As time went on, it evolved and expanded to include fashion merchandising, programming about community service projects and "The Garden Club of the Air". Iowa Central Community College fashion merchandising students participated in the program once a week, providing information on textiles and the history of fashion. The students prepared their own slides and appeared on the air as part of their fashion curriculum.
"The Garden Club of the Air" was on the program every week for twelve years, never duplicating programs. It emphasized the therapeutic aspects of gardening and horticulture. It received numerous awards, including one from the National Red Cross.
Eve Rubenstein produced the program herself, and averaged an amazing ninety guests per week. She was very supportive of public service. Members of local civic groups, student musicians and consumer information specialists often appeared on her program. Eve also wanted to increase mail to hospital and nursing home patients. Staff from local facilities would appear on the program, addressing the psychological problems of their patients. An increase in mail to those facilities occurred after this project had begun.
Eve Rubenstein once stated "The real celebrities are the people you serve. I want to bring them on the show, to make them think. Television is part of the home. People in Fort Dodge have more time to watch TV than people in larger cities. Here TV personalities are considered part of the family. Everybody has a good story, if you just take the time to seek it out."
She also believed "Local television is not a movie; its' a community service. The program is the people who are on it, exchanging ideas to build a better Iowa."
By 1972 Eve had been on the air for 19 years--more than any other woman in the United States. In 1988 she was given an award as 'Fort Dodge's Most Respected Citizen'. She also received a Fashion Reporters Award in New York from Mayor John Lindsay. She was also inducted into the Iowa Women's Hall of Fame in 1992.
Eve's Kitchen was a staple of KQTV for the entire time the station was on the air.
Eve Rubenstein died in 1993 and is buried in North Lawn Cemetery beside her husband Charles.
For more information about Eve Rubenstein, go to her bio under ICONIC PEOPLE.
Source:
*Des Moines Register
---
Shag the Drag
---
Shagging the Drag
Central Avenue
Shagging the Drag was a real tradition in Fort Dodge during the 50s,60's and 70's. It was an enjoyable pastime for many Fort Dodge teenagers and even young adults. To "Shag the Drag" meant driving up and down Central Avenue, around the City Square and back east to either The State Bank or the Silver Fox Restaurant. Teenagers would turn around in the bank or restaurant's parking lot and start the cruise again. On Friday and Saturday nights, one trip from the east end of Central Avenue, around the square and back could take as long as 15-20 minutes because the traffic was so heavy.
The point was to "see and be seen"; see someone you had a crush on, or someone you wanted to meet or maybe just talk to! Sometimes, the teens would park their cars on the City Square and get out and talk to other people on the Square and just "hang out." As often happens with congregated teenagers, occasionally, a fight might break out on the City Square. Police often knew when trouble was brewing with the kids shagging the drag, and would patrol the area to help keep the peace.
Some teenagers had great cars – so shagging the drag was the opportunity to show them off. Others merely drove in their parents' cars – old vehicles, station wagons, motorcycles – anything that had wheels.
The State Bank had a "weather ball" which would let passers-by know what to expect. If you called its Time and Temperature telephone line, one of its messages stated that if the weather ball light was "Blinking – Precipitation on the Way". There was also a fountain under the weather ball and sometimes a prankster would put laundry detergent in it, causing it to overflow with lots of suds!
As a nostalgic Fort Dodge tradition, Shagging the Drag was a harmless and fun social activity and pastime for so many teenagers. They didn't use too much gas (after all, Central Avenue is just a few blocks long!) and teenagers would pile into cars, looking at who was driving by and just enjoying each other.
With three movie theaters and many other stores and bars on Central Avenue, downtown Fort Dodge was a bustling center of social activity. Shagging the drag provided many teens and young adults growing up in Fort Dodge with great times and a lot of fun memories. For many, it was the place where great friendships were made. And even for some, it was where they met their future spouse.
---
Floyd of Rosedale
---
It all started in 1934 when the University of Minnesota Golden Gophers played a football game against the University of Iowa Hawkeyes. Iowa's running back, Ozzie Simons, who was one of the few black players at the time, was singled out to be hit with excessive force during a 48-12 home loss to Minnesota. It's said that Simmons was knocked unconscious three times before leaving the game in the second quarter.
Back then, Minnesota, coached by Bernie Bierman, was a national power. On its way to the 1934 national championship, the Gophers routed Iowa, 48-12, at Iowa Stadium. More than the lopsided score, the Gophers' tactics angered some Hawkeyes fans.
They claimed the Gophers targeted the star back and safety Ozzie Simmons, nicknamed the Ebony Eel, one of the few black players in the Big Ten. According to newspaper reports, Simmons was knocked unconscious three times before leaving the game in the second quarter. Eleven years earlier, Iowa State's first black athlete, Jack Trice, died of injuries sustained in a game at Minnesota. (Iowa State's stadium is named for Trice.)
Simmons, who died in 2001, told The Star Tribune of Minneapolis in a 1988 interview that he sustained bruised ribs from late hits and piling on. "I really had the feeling they were after me because I was good," he said. "Oh, I think me being black added a little oomph to it."
Both teams were undefeated heading into their 1935 game, also in Iowa City. Iowa fans were growing impatient with opponents trying to rough up Simmons. When it happened during a 19-0 victory at Illinois, two Iowa players reportedly approached the Illini huddle and threatened to run them out of the stadium if they didn't knock it off. (That story was told by the Hawkeyes' radio announcer, a fellow named Ronald Reagan.)
The day before the game, Herring issued a statement that read: "The University of Iowa football team will defeat the University of Minnesota tomorrow. Those Minnesotans will find 10 other top-notch football players besides Ozzie Simmons against them this year. Moreover, if the officials stand for any rough tactics like Minnesota used last year, I'm sure the crowd won't."
Minnesota coach Bierman responded by moving a Gophers practice from Davenport, Iowa, across the state line to Rock Island, Ill. And, he requested police protection when the team arrived in Iowa City by train and vowed never to play the Hawkeyes again if any threats were carried out.
Minnesota Governor Floyd Olson, after reading Iowa Governor Herring's comments in the morning newspapers, sent a telegram to Iowa Governor, Clyde Herring, on game-day morning, which read, "Dear Clyde, Minnesota folks are excited over your statement about the Iowa crowd lynching the Minnesota football team. I assured them that you are a law-abiding gentleman and are only trying to get to our goat. The Minnesota team will tackle clean, but, oh! how hard, Clyde. If you seriously think Iowa has any chance to win, I will bet you a Minnesota prize hog against an Iowa prize hog that Minnesota wins today. The loser must deliver the hog in person to the winner. Accept my bet through a reporter. You are getting odds because Minnesota raises better hogs than Iowa. My best personal regards and condolences."
Herring accepted the wager. The Gophers won 13-6 without incident and Iowa star, Ozzie Simmons, played an injury-free game. Afterward, the Minnesota players went out of their way to compliment Simmons, and Simmons praised the Gophers for their clean, hard-fought play.
Herring obtained an award-winning prize pig which had been donated by Allen Loomis, the owner of Rosedale Farms near Fort Dodge. Dubbed Floyd, after the Minnesota governor, the pig was the brother of Blue Boy from the Will Rogers' movie "State Fair." A few days following the game, Herring collected Floyd of Rosedale and personally walked him into Olson's carpeted office to present him his reward for winning the game.
Floyd took up residence at the Minnesota agriculture campus. They kept him in the swine barn and he was put in his own pen. He didn't take up residence there for very long. A few months later, it was learned that the University of Minnesota had sold Floyd for $50 to a farmer in southeast Minnesota. It was later learned that Floyd reportedly died of cholera in July 1936 and was buried on that farm, located midway between the two campuses.
Since the two schools could not continue wagering on a live pig, Governor Olson commissioned St. Paul sculptor, Charles Brioschi, to capture Floyd's image. The result was a 98-pound bronze trophy, 21 inches long and 15 inches high. Iowa and Minnesota have played for Floyd of Rosedale every year since. The winner of the game is entitled to keep the trophy until the following year's contest. Floyd of Rosedale has served as a symbol of fairness, equality and civility. The Floyd of Rosedale Trophy is one of the most recognized trophies in Division 1 college football today, and it all started with a pig from Fort Dodge.
Sources:
*New York Times Article…Nov. 25, 2010
---
Uncle Dick's Funhouse
---
Uncle Dick's Funhouse, hosted by Dick Johnson was a kiddie show that quickly found a huge audience with F.D. children. Dick Johnson started in 1950 with a radio program. In 1953, he came to KVFD TV at Ed Breen's invitation. He served as an announcer, weatherman, and newscaster. A time slot opened up after the Eve's Kitchen show and Breen asked Johnson if he would host a children's program at that time. The show had access to cartoon shows and old one-reeler movies with performers like Laurel and Hardy. Johnson was a talented sketch artist and cartoonist. The success of the show shocked WHO in Des Moines, which lost all its audience in the F.D. area in that time slot due to the popularity of Uncle Dick. Later the show became a 15 minute episode called 'Birthday Party'. It went off the air in 1970.
For years, Dick Johnson put smiles on the faces of hundreds of Fort Dodge girls and boys and helped many of them usher in another birthday — made all the more special by celebrating it on live television.
"Those kids were the highlight of my whole life," said Johnson at his 90th birthday party in his home in Great Falls, Montana. "The main focus of the whole show was kids who had a birthday. I was just there. The show wasn't about me. It was about the kids."
"Ed called me into his office and in his usual casual way, he said, 'Starting next Monday, you'll have the 5 to 5:30 slot after Eve to do a 'kiddy' show," said Johnson, then a newscaster. Breen said he could get a contract for some cartoons and old "one-reelers" for such talents as Laurel and Hardy.
"We built a set, ran some promos to have parents write in to schedule a birthday party on the show which Ed named Uncle Dick's Funhouse. We didn't even have videotape at that time so we had to do all the promotions with slides and old fashioned 'opaque' cards. Fortunately, I had frittered away way too much time in my high school history and English classes doodling caricatures and similar pencil drawings, so Ed suggested I draw pictures for the kids and fill the time between commercials and film."
"My favorite part was interviewing the kids," Johnson said. "There wasn't a day gone by that didn't have a guest group, a birthday party. Parents would call and schedule a birthday some months ahead. I interviewed the kids and asked what their interests were, names of their pets; that was fun. I will never forget one boy who told me he used to have a dog, but that the dog pooped on his mother's dress and she made him get rid of it. I shared that with Art Linkletter's 'Kids Say The Darndest Things' and he used it.
"I'd ask them what they'd like me to draw. When Eve did some cooking, we would let the kids sample it. It was one of the most-watched shows in the territory for all the time we did it."
The show was televised from 5 to 5:30 p.m. five days a week and it ran for more than six years.
Johnson grew up in Eagle Grove, where he attended high school and junior college. Blessed with a good voice, he was doing broadcasting and commercials while attending Drake University in Des Moines. He left college for a job as a disc jockey and later news director at a Spencer radio station, and then worked at a Carroll radio station before coming to KVFD radio in 1953.
Johnson was also an avid barber shopper for 72 years, singing in such quartets as the Chordhuskers" and the "Bunkhouse Bums." He joined the Society for Preservation and Encouragement of Barber Shop Quartet Singing in America while attending Drake and his 72-year tenure ranked him in the top .05 percent of the society's 20,000 members.
Later in his television career, Dick Johnson moved to Great Falls, Montana, and took a job as a television newsman. Johnson stated "I fell in love with Montana – the fishing, the hunting, the outdoors. I had been in Montana all my life and I just didn't know it until I got there."
Source: Betty Pannick
---
KQTV Romper Room
---
Romper Room, hosted by Janet Wiewel, was another kiddie show on KQTV. The show was a big hit with the children of Fort Dodge. They loved the set Miss Janet with her 'Do Bee' puppet. It remained on the air for 5 1/2 years until 1970.
Romper Room was a franchised television program. Each program opens with a greeting from the hostess and the Pledge of Allegiance in American broadcasts. The hostess and her group of children then embark on 30 or 60 minutes of games, exercises, songs, story-telling and moral lessons, which were regularly accompanied by background music. The hostess (or sometimes the children in cadence) would ask, "Mr. Music, please!" or "We're ready, Mr. Music," to prompt the background music. The young cast, which ranged from four to five years old, was rotated every two months. Many of the hostesses had prior experience working with small children and many were former kindergarten teachers.
Etiquette was a focus of Romper Room. The hostesses were always addressed as "Miss." The show also had a mascot, Mr. Do-Bee. Mr. Do-Bee was an oversized bumblebee who came to teach the children proper deportment. He was noted for always starting his sentence with "Do Bee," as in the imperative "Do be"; for example, "Do Bee good boys and girls for your parents!" There was also a "Mr. Don't Bee" to show children exactly what they should not do. Do-Bee balloons were made available for purchase to the public. Each balloon featured a painted sketch of Do-Bee. When the balloons were inflated and then released, they would fly around slowly and emit a buzzing sound.
The hostess would also serve milk and cookies to the children. Before eating, they would recite the Romper Room prayer: "God is great, God is good. Let us thank Him for our food. Amen."
At the end of each broadcast, the hostess would look through a "magic mirror"—actually an open frame with a handle, the size, and shape of a hand mirror—and recite the rhyme, "Romper, stomper, bomper boo. Tell me, tell me, tell me, do. Magic Mirror, tell me today, did all my friends have fun at play?" She would then name the children she saw in "television land," saying, for example, "I can see Kathleen and Owen and Julie and Jimmy and Kelly and Tommy and Bobby and Jennifer and Martin" and so forth. Children were encouraged to mail in their names, which would be read on the air (first names only).
Source:
*History of UHF Television: www.uhftelevison.com
*Betty Pannick
---
---